Arts & Crafts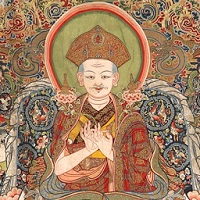 Bhutan is known for its thirteen traditional crafts.

Shing zo: In olden times temples were contrived with timber and resorting to woodwork. In Bhutan this art of constructing is known as Shing zo. The craftsmen are called Zow chen by the local people.

Do zo: Many temples in Bhutan have been constructed using stone. This art is called Do zo.

Par zo: The carvings done on stone, wood and slate are referred as Par Zo carft in Bhutan.

Lha zo: Painting is also part of Bhutan's art and craft. The painting work accomplished by master painters is called Lha Rip in the country.

Jim zo: The various statues of deities, gods and goddesses in the country have made using clay work. This art is called Jim zo.

Lug zo: Many people in Bhutan enjoy bronze casting. The art is known as Lug zo.

Shag zo: Bhutanese call wood turning Shag Zo. The wooden cups and bowls in the country are called Shag Zopa.

Gar zo: The art of blacksmithing in the country is known as Gar zo.

Troe ko: The art of making ornaments is called Troe ko.

Tsha zo: Weaving bamboo and cane products is termed as Tsha zo in the country.

De zo: In Bhutan many people engage themselves with the work of producing the traditional paper called De zo. In olden times the religious scriptures were written on these traditional papers.

Tshem zo: Tshem zo means the art of tailoring.

Thag zo: The art of waving textile is called Thag zo in the country.