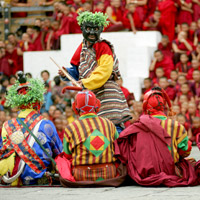 Bhutan remained isolated from outside cultural influences for centuries. It has always maintained a strict policy on maintaining and preserving its culture and heritage. Only in mid 1970s foreign visitors were allowed to visit the country but it still maintains limited numbers of visitors. These helped Bhutan preserve many aspects of its culture that dates back to 17th century and before.

Bhutan Druk Adventure will take you to the modern ancient Bhutan and showcase the culture which our forefather has carefully guarded in its purest form. Bhutanese believe that other than the preservation of the culture and revered values.Grab the best tour packages in the Himalayan region that has enamored tourists from every corner of the world.These adventure travel packages cover some of the best adventure sites in the region. Experience the serenity of the mountains as well as the hustle and bustle of small-town lifestyles through our well knitted tour packages.

Cultural Tours itineraries are prepared to meet the interest of the individuals for ones enjoyable holiday in Druk-Yul the Kingdom of the Thunder Dragon (Bhutan). We have defined itineraries in different number of days with the location of the countryside for your interest.