Culture and Tradition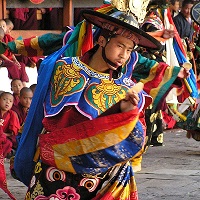 Bhutan is a culturally soaked country and the natives practice many traditions.

Birth: The third day after the birth of the child is followed by a purification ritual. After that the outsiders come to see the new born and also bring gifts like clothes, dairy products and money for the child. The child is given a name associated with a deity or the day on which he/she was born, in temple.

Marriage: Conducting cross-cousin marriages is almost a shunned tradition in Bhutan. Away from the pomp and show, Bhutanese tie the nuptial knots in the most simplistic manner. Parents, relatives and friends gift the newlyweds, scarves, money and goods at the end of all rituals. In western Bhutan, after marriage, the husband stays in the wife's house.

Funeral: The deceased people are cremated or buried. Prayer flags are erected on 7th, 14th, 21st day and 49th day and some rituals are also performed. The Brokpas are known to feed the deceased people to the vultures.

Bhutanese Dress: Gho is worn by men and Kira is worn by women. Gho is a knee length dress and is folded and tied with a belt called Kera. There are many tribal groups in the country like Bramis and Brokpas who wear clothes woven with sheep or yak hair. The natives of the country wear scarves when they visit administrative centers.

Eating Habits: The natives traditionally sit cross-legged on the floor and eat with their hands. Before eating they offer a short prayer to the spirits and deities. In urban areas people follow dinning etiquettes and eat with spoons sitting on the chairs. The food savored by natives is rice, Ema Datshi, beef curry etc.

Festivals: Tshechu is the most popular festival in all the villages of the country and every village celebrates it in a unique manner.