Environment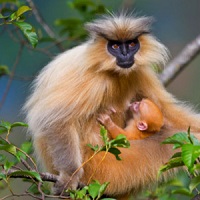 Bhutan is geographically diverse and also witnesses varied climatic conditions. The country houses rugged mountains and beautiful valleys, which are also counted amongst the ten prime biodiversity regions in the world. The 65% of land in the country is covered with forest and 26% of land is the protected land and comprises of four parks and two wildlife sanctuaries.

Jigme Singye Wangchuck National Park: It is Bhutan's second largest protected area. The park houses ice peaks, and conifer and broadleaf forests. The musk deer, Himalayan black bear, golden langur, clouded leopard, red panda, Royal Bengal tiger are some of the animals that can be spotted in the park.

TrumshingLa National Park: The park houses many animals like red pandas, leopards, tigers etc. It is also home to 341 species of birds. The park is covered with flora such as alpine and broadleaf.

Royal Manas National Park: The park experiences varying climatic conditions throughout the year. The months May-Sep are marked by monsoon and the weather turns pleasant from Nov to Feb. The park is inhabited by animals like Royal Bengal tiger, greater one-horned rhinoceros, gangetic dolphin, Asian elephant, clouded leopard, Himalayan black bear, and pangolin etc.

Jigme Dorji National Park: The park has peaks such as Jichu Drakey, Jomolhari and Tsherimgang. Some of the animals that can be found in the park are tiger, snow leopard, red panda, takin, and black bears and. Flowers like orchids, blue poppy, rhododendrons, edelweiss etc., make the park look very resplendent.

Bumdeling Wildlife Sanctuary: There are 100 species of the mammals in the wildlife sanctuary. In the winters 150 black necked cranes inhabit the sanctuary for temporary stay. One can also spot many butterflies in the sanctuary.

Sakteng Wildlife Sanctuary: The wildlife sanctuary is characterized by alpine meadows, warm broadleaf and temperate forests. It also houses animals like snow leopards and red pandas.