Location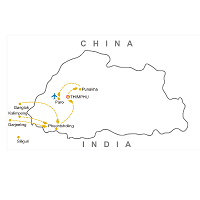 Bhutan is a South Asian country and slumps on the eastern Himalayas. It is bordered mainly by India from South, and China from north. Bhutan shares northern borders with the Indian state of Arunachal Pradesh and Tibet, the autonomous region under China.

It is separated by the two Indian states, West Bengal and Assam from South, and the borders on the West of the country meet the Indian state Sikkim. The country stretches up to the area of 38,398 sq km and is almost equal to Switzerland in size. Bhutan lies between 26°40' and 28°15 ' longitude north and 88° 45' and 92°10' east.

The country is primarily characterized by mountains. There are sub-alpine Himalayas in the north and landscape ranges in south subtropical plains.The capital of Bhutan is Thimphu.