People Society and Religion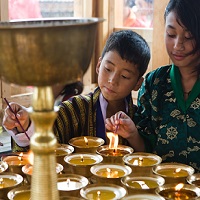 There are three prime ethnic groups in the country: Tshanglas, Ngalops and the Lhotshampas.

Tshanglas: Tshanglas are also referred as Sharchops and are known to be the descendants of Lord Brahma. These reside in Trashi Yangtse, Mongar, Samdrup Jongkhar, Trashigang, and Pema Gasthel regions of the country.

Ngalops: Ngalops are of Tibetan origin and reside in the six regions of western part of the country. Their native dialect is Ngalopkha, which is very much similar to Dzongkha.

Lhotshampas: It is believed that Lhotshampas who now have inhabited the southern foothills of the country have migrated from Nepal in 19th century. Their native language is Lhotshamkha, a Nepali language. They practice Hinduism.

Religion: The majority of people in Bhutan have faith in Buddhism. There are many mountain peaks in the country which are considered to be dwellings of various guardian deities (Yul lha). The lakes in the country are the abode of deities, Tsho mem. The cliff deities are Tsen , subterranean deities are Lue, land deities are Sabdag, and water deities are Chu gi Lhamu. There are many Buddhist monasteries and stupas in the country.

Society: The slavery in Bhutan was abolished in 1950s and the contemporary Bhutan society is not plagued by caste system. Bhutan is a gender-sensitive country; but few organizations operate in the country with the objective to empower women. Driglam Namzha is a traditional etiquette that apprises how people should conduct themselves in public places.