Political System of Bhutan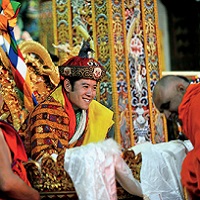 Bhutan is a parliamentary democratic country. In 1907 a significant event took place. The people in the country enthroned their Ist hereditary King of Bhutan, Ugyen Wangchuck. Eventually, in coming years, the monarchs from the Wangchuck dynasty succeeded the throne of the country consecutively. It was in 1953 that the Third King Jigme Dorji Wangchuck who decided to form National Assembly (Tshogdu). The Royal Advisory Council (Lodoe Tshogde) was formed in 1963.

The institution of Dzongkhag Yargay Tshogdu (District Development Assembly) was established in 1981 and the Gewog Yargay Tshogchung (County Development Assembly) was formed in 1991 by the Fourth King Jigme Singye Wangchuck. The power of the king was transferred to cabinet ministers in 1998 and the King started to serve the position of Head of the State while the PM managed the government. The constitution of Bhutan was enforced in 2008. The same year the country held its first elections and Druk Phunsum Tshogpa was elected as the head of the government.

Lately Lyonchen Jigme Y Thinley runs the government in Bhutan with his 45 elected members. The government of Bhutan comprises of legislature, judiciary and executive. The Bhutan government is expounded by its ruling political party, opposition and the National Council.